I know, I know, the season of Advent is approaching and with it all kinds of sweets. Gingerbread, coconut macaroons and Christmas chocolates are already filling the shelves within the supermarket and soon our cookie jars and bellies too. That's why the little rebel in me felt like making a savory snack this week. Something crispy and tasty with a flavor of curry and onion. That's how my curry crackers came to life. You can see immediately that they are homemade, because they are irregularly shaped and look quite imperfect – and that's exactly what I like about them (that's the rebel in me speaking again ;–). Homemade things that look handmade always make me happy. They seem like a loving act of revolution in a world that puts so much emphasis on perfection and standardization. Perfection can be cold and boring because it has no soul. The imperfect and irregular, on the other hand, let the soul emerge.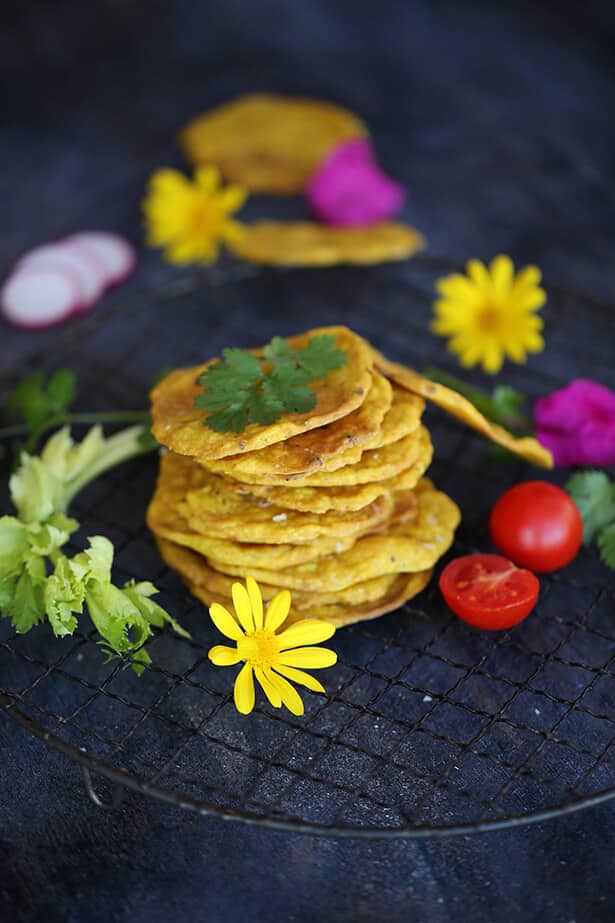 In the face of the soul we automatically feel happier and more fulfilled. The soul never has a smooth surface. It has openings and cracks through which we can look into the depths. And from the depths of the soul our true nourishment comes just like the nourishment of a tree comes from the depths of the earth. A tree with pruned roots is unstable and poorly nourished. A person who does not draw from the depths of their soul feels tired, burned out and pessimistic. So I firmly believe that we should care for the little cracks in the canvas of our lives. By being ready to be imperfect and admitting it. By being ready to show ourselves as we are and thereby encouraging others to do the same. And by cherishing the small, true moments and things for what they are: real food for the soul.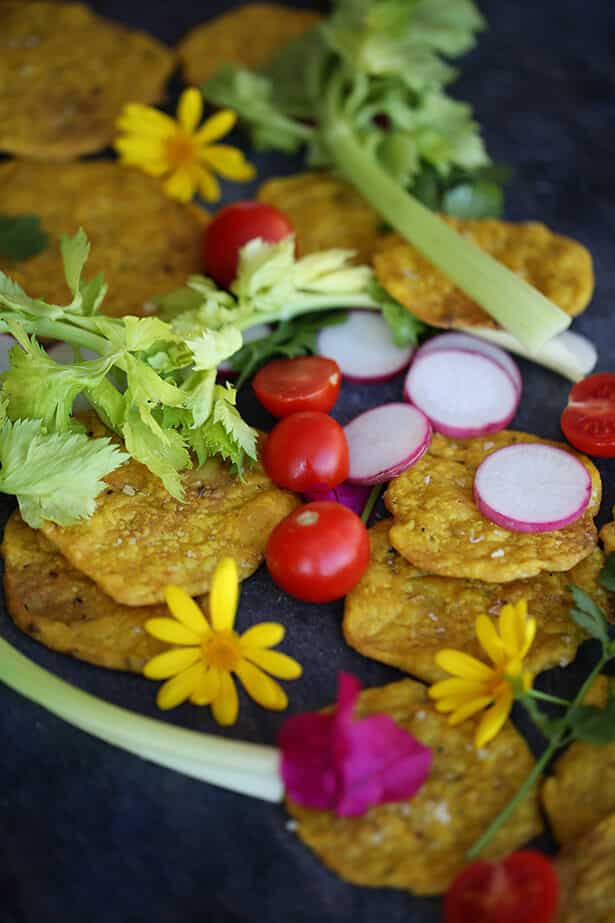 My recipe of the week
Curry crackers basically consist of spelt flour, water and olive oil. The rest are the spices. The curry powder gives them their beautiful yellow color, which makes them a sunny, good-mood snack. I like them on their own, but if you want, you can serve them with raw vegetables and cheese.
And now my question for you: do you enjoy real, handmade things with a soul as much as I do? What was the last thing that made you happy? I look forward to your comment under this post!

CURRY CRACKER
Instructions
Preheat the oven to 180°C top and bottom heat.

Put all the ingredients for the dough in a bowl and mix carefully.

Line a baking sheet with baking paper and spoon 1/2 tablespoon portions onto the paper and press flat with moistened hands. The dough is a bit stubborn, so press and stretch it properly until the dough is spread as thinly as possible. If you don't get a perfectly round cracker shape: Don't worry! This shows that the crackers are handmade.

Sprinkle with fleur de sel and freshly ground black pepper and bake for about 13–15 minutes, until the crackers are lightly browned. Better to leave it in the oven a little too long than too short, so that the crackers get nicely crisp.

Then bake the second portion.