I don't really use the "G"-word lightly. But when biting into one of these flatbreads for the first time I said to my husband: "This is the most genius bread ever!" Well, for every word there is a space and a time – and a flatbread, of course. In general, I like to be careful with words. After all, they have a lot of strength. They stay in the room even if you don't want them to, or they just fizzle out without us being able to prevent them. Words are digestible or not, some we don't want to hear and others we want to suck up. Often we starve to hear certain words. And others we would like to forget forever.
A master of words is like a master of the kitchen: he tries to find words that don't get acidic, that are consumable in the broadest sense, otherwise he won't be heard. He does not use so many words that satiety occurs, but neither does he use so few that a hungry emptiness arises. So it depends on the portion size. But the content is even more important. Does it pass us by because it is empty, emotionless and impersonal or does it move us through its content of nutritious facts, personality and earnesty? Just like a meal made from natural ingredients, words that are real and authentic also make you feel full and happy for longer.
Words and meals – both nourish us in their own way. Both must be chosen carefully. Both leave us full or hungry, oversaturated or drained, satisfied or unsatisfied. They are the origin. The word. The bread. And here I have a genius kind of bread for you. So put on your apron and let's bake!
The recipe of the week
These flatbreads are super fluffy and taste extremely aromatic because they are coated with a mixture of olive oil, roasted paprika powder and garlic and finally sprinkled with sesame seeds. The consistency of the dough is very moist and sticky, but please don't give in to the temptation to add more flour. It is better to accept the fact that the dough will stick to your fingers and you can therefore only knead it for a short time. The raw flatbreads can also look a bit misshapen, but fear not! Once the breads are baked, they look and smell delicious anyways.
And now my question for you: are there words that you save for very special occasions? Which are they?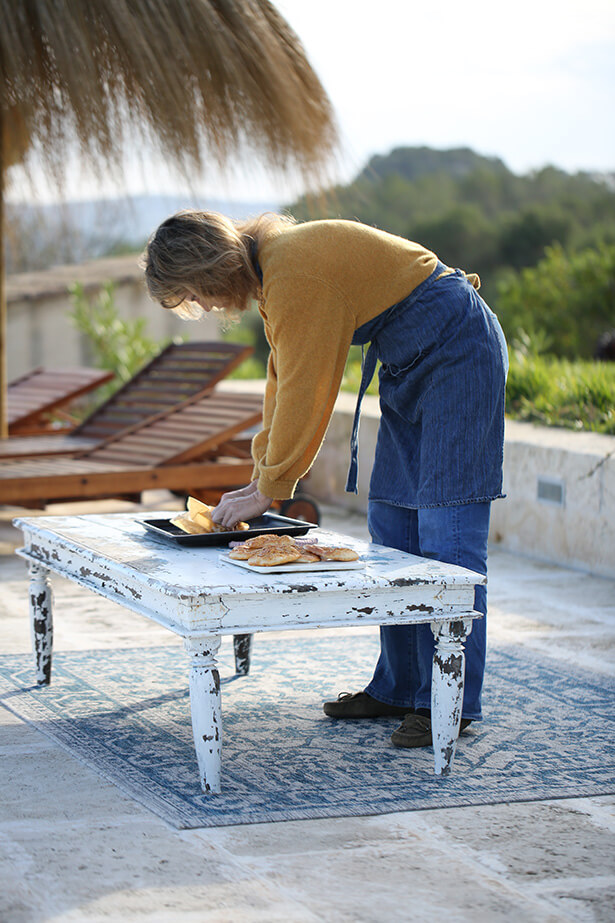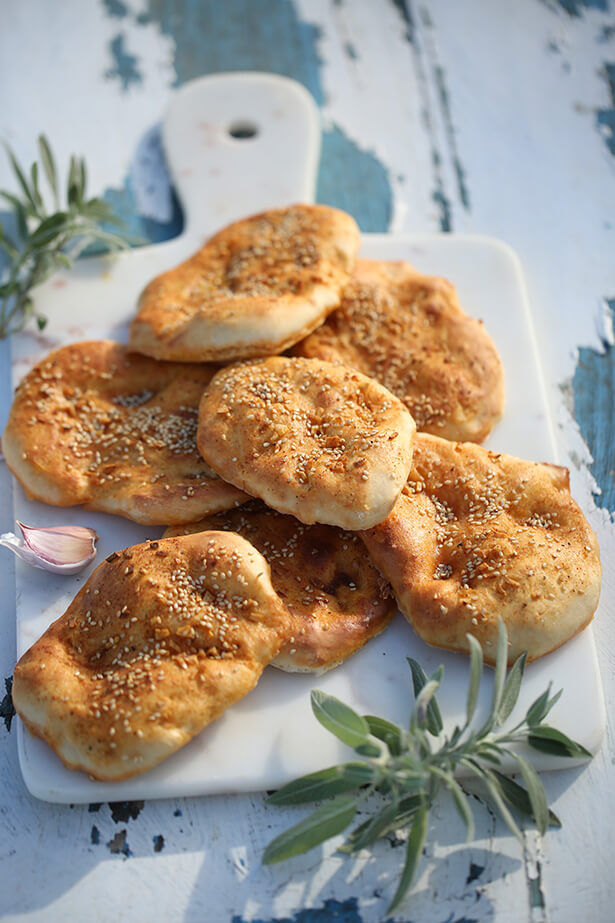 GENIUS FLATBREADS
Instructions
Mix the yeast, maple syrup and almond milk in a bowl and let rest for 10 minutes.

Mix the flour, yogurt, olive oil and salt in another bowl. Knead with the yeast mixture for about 1 minute. The dough is very sticky and moist, but that's how it should be. Let rise for 1 hour.

Preheat the oven to 220°C top heat and circulation air.

Mix the ingredients for the topping, except for the sesame seeds, in a small bowl.

Line a baking sheet with baking paper. Divide the dough into 6 - 7 portions with floured hands and place on the baking paper. Moisten your hands and press the dough as flat as possible. Spread about 1 teaspoon of the oil mixture for the topping on each serving. Sprinkle with sesame seeds.

Bake the flatbreads for about 8-10 minutes until they are browned.