It was in LA many years ago. Thomas and I attended our first yoga class in the yoga center where we would later do our yoga training. We were already sitting on our mat, waiting for the teacher. We observed two women who greeted each other with a big hello. One called to the other: "Oh my god, you're so radiant !!!" Thomas and I looked at each other and started snorting with laughter. It was 2009, and the Californians were already more than knee-deep in the health and wellness movement, that arrived in Europe a little bit afterwards. The values of the wellness movement are not money, power and influence, but serenity, beauty and health. And a comment like "You're so radiant!" is practically the accolade.
Today it seems that we are virtually surrounded by wellness tips and health advices (and yes, I am aware that I am part of this scene too ;-). Everyone has a tip on how we can live even healthier, better and more relaxed. We want our appearance to shine, our health to flourish and our minds to be as calm as a Zen garden. It goes so far that we feel like a failure when we are not in a good mood or feel stressed. After all, there is definitely a breathing technique, a meditation or a health drink, that we should know about to prevent the negative feelings. But I believe that life is not about "meditating away" the dark feelings. Because life is about contrasts and diversity.
Negative feelings, unpleasant situations or illnesses are our "development workers". Because they not only make us aware of what we do not want, but they show us what we actually want and release an incredible amount of energy. Without valleys, there are no mountains, without ebb and flow, there is no high tide, without negativity, no positivity. Life just "tastes" better when it is truly lived. If we only take the nice, sweet little bites from the buffet, at some point everything tastes the same, everything is bland and we lose our appetite for life.
I think that's why people who are very picky with their food secretly get on my nerves. Because for me, life is about "finding taste" in many things – in the sweet, the sour, the bitter, the sad, the beautiful, the hot and the ugly. For me this is the art of living and – in the end – leads to a "bigger" life. And we all want that, don't we?
What do all these thoughts have to do with my chai tea concentrate? Nothing! ;–) Except that it is a loyal friend on good and bad days. It is easy to prepare and lets us make a delicious chai latte in no time, with which we can sit crying in front of the TV or laughing with our best friend in the kitchen. It is also a nice last-minute Christmas present that everyone will love. And since it combines sweet, bitter and spicy, it is perhaps a symbol for the spice of life. But you really don't have to go that far. Chai Latte is delicious. Done.
And now my question for you: what do you do when you are not feeling well? And has a negative situation ever helped you to grow? I look forward to your comment below.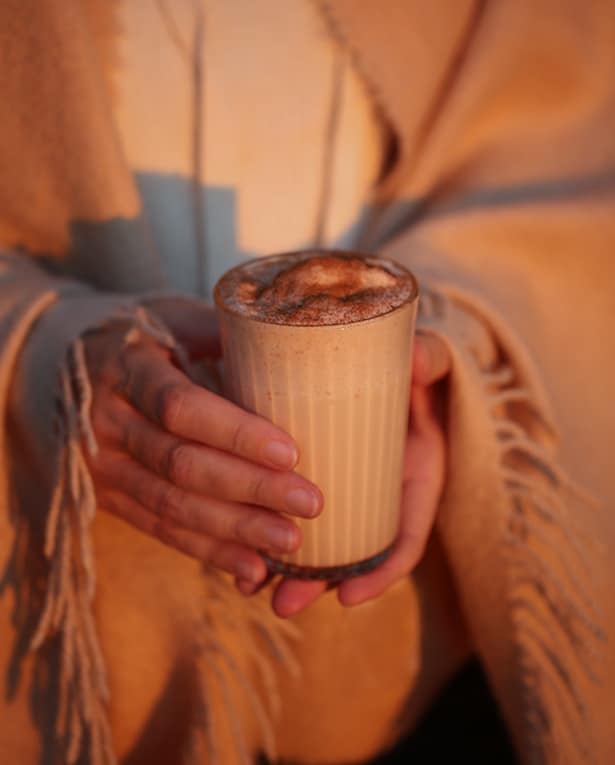 CHAI TEA CONCENTRATE
Ingredients
For the concentrate (enough for many chai lattes:):
For the chai latte per person:
Instructions
Mix all the ingredients for the concentrate in a clean jar with one another until smooth. So the concentrate can be stored for months.

To make a chai latte, heat the almond milk in a saucepan. Add about 2 teaspoons of the concentrate and stir well. Froth up with a milk frother. Put the tea bag in a glass or cup and pour the hot milk over it. Let it steep for about 3 minutes, then remove the tea bag and serve the chai latte.
Wellcuisine-Tipp
This concentrate is also great as a Christmas present. Simply prepare double the amount and fill it into a pretty screw-top jar. The best thing to do is to give a small card that says how the chai latte is prepared. By the way, the chai tea concentrate also tastes good when you dissolve a spoonful of it in your coffee.