During the last few days I often thought of my grandfather. While sorting through my late mother's estate recently,  one of my grandfather's books fell into my hands (yes, I think I inherited my passion for writing books from him). My grandfather grew up in East Prussia. One of the most beautiful stories he told me from his childhood was about the evening when the residents of the neighboring village arrived with buckets full of water because they thought that my grandfather's village was on fire. But the truth was that there was simply a particularly beautiful sunset that evening.
My grandfather was an enthusiastic glider pilot. When war broke out, however, he gave back his pilot's license because he had no intention of becoming a bomber pilot. Instead, he enrolled to study medicine because he didn't want to be a soldier in war, but rather a paramedic. So my grandfather learned his practical medical trade during the war. When he got home before the end of the war, he made a home visit to a patient who was the wife of a Gestapo official. When he saw a portrait of Hitler on her wall, he said to her: "Please remove the picture, I can no longer see this face." As a result, my grandmother couldn't sleep that night because she was afraid that my grandfather would be taken away by the Gestapo.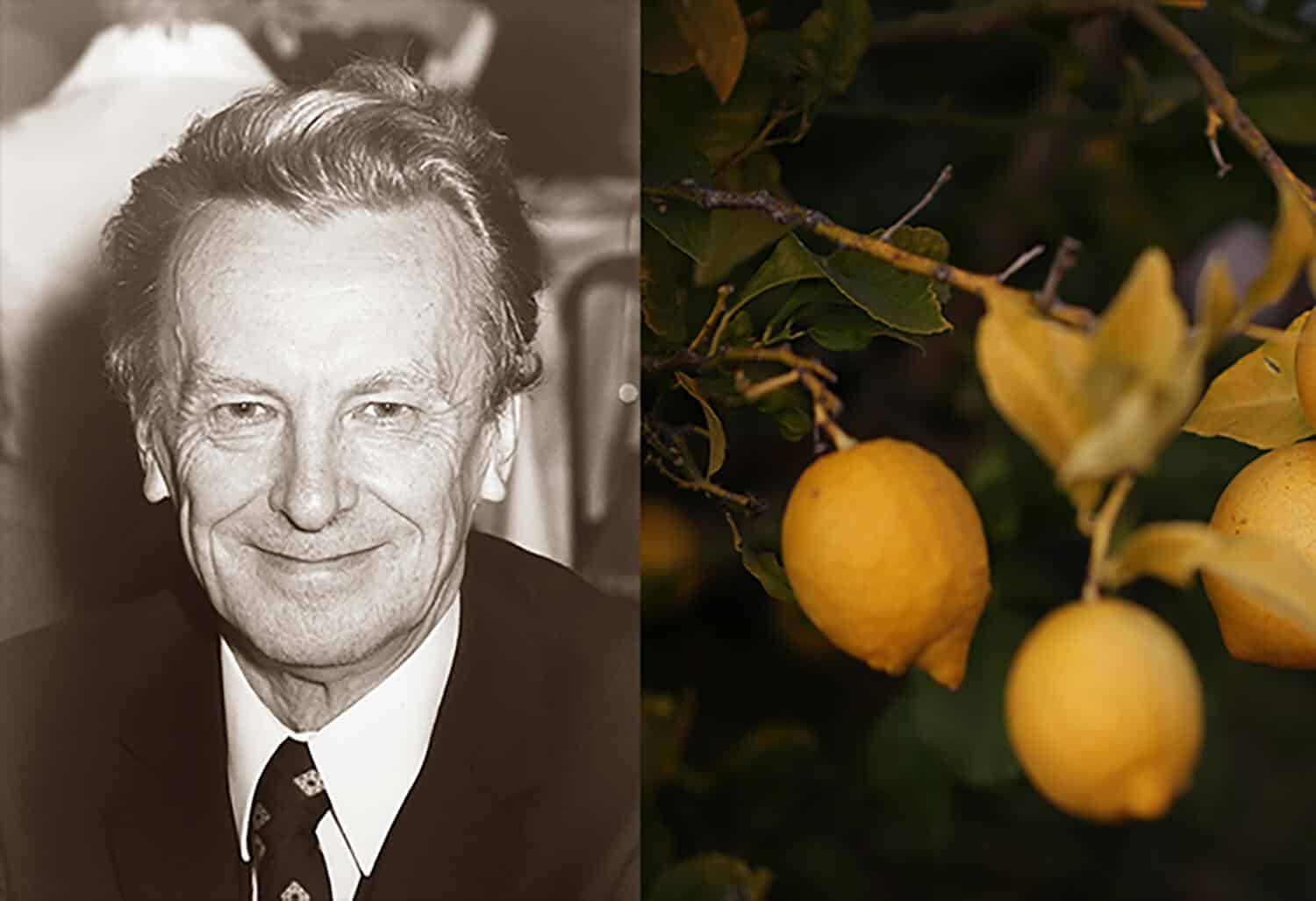 In the 1960s, my grandfather became seriously ill with a liver disease. No one could help him, not even himself. The doctor who treated him believed he was dying. That's when my grandfather started looking for "outsider methods." He tried everything he could find in naturopathic books about his condition and eventually healed himself. From then on there was no turning back for him and all his life he has been dealing with acupuncture, homeopathy, energetic, Indian and witch medicine. He researched and practiced throughout his life. Growing up in my grandparents' house, I experienced my grandfather's practice firsthand. There were days when he stuck an X-ray film on my skin in order to examine whether the body emits light (it does – this is known and researched today). To him, a person's aura was just as real as their blood and vitamin levels. He saw and treated people holistically. When I was in the second grade, each student was supposed to give a short lecture on a topic of their choice. I decided to use my grandfather's kinesiology testing methods, which I then demonstrated to the class (and yes, I was lucky that I went to a Waldorf school, otherwise my reputation might never have recovered). After that, my teacher asked me what exactly my grandfather was. I thought for a moment and then gave the job title that seemed most appropriate to me: "medicine man". This caused so much amusement in class that this anecdote haunted me until I was in high school.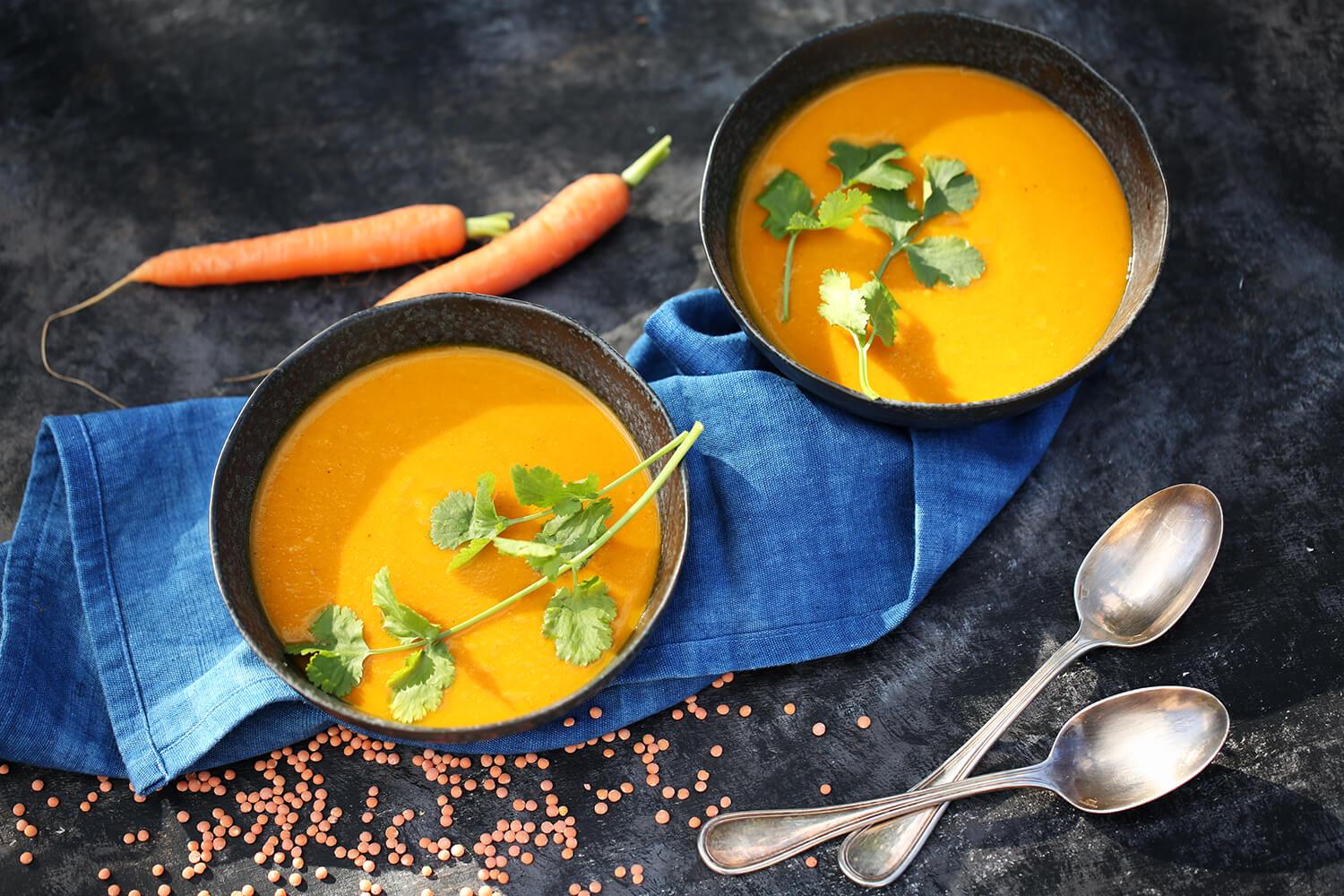 My grandfather published his findings and treatment methods in his books. When I read them, I can still hear his voice describing his view of body, mind and soul in a short, concise and dryly humorous way. Remarks like these in a foreword are not uncommon: "The methods described in this book can be used to rebuild the immune system and regenerate the lymphatic system (I already know all the spiteful remarks on this subject)."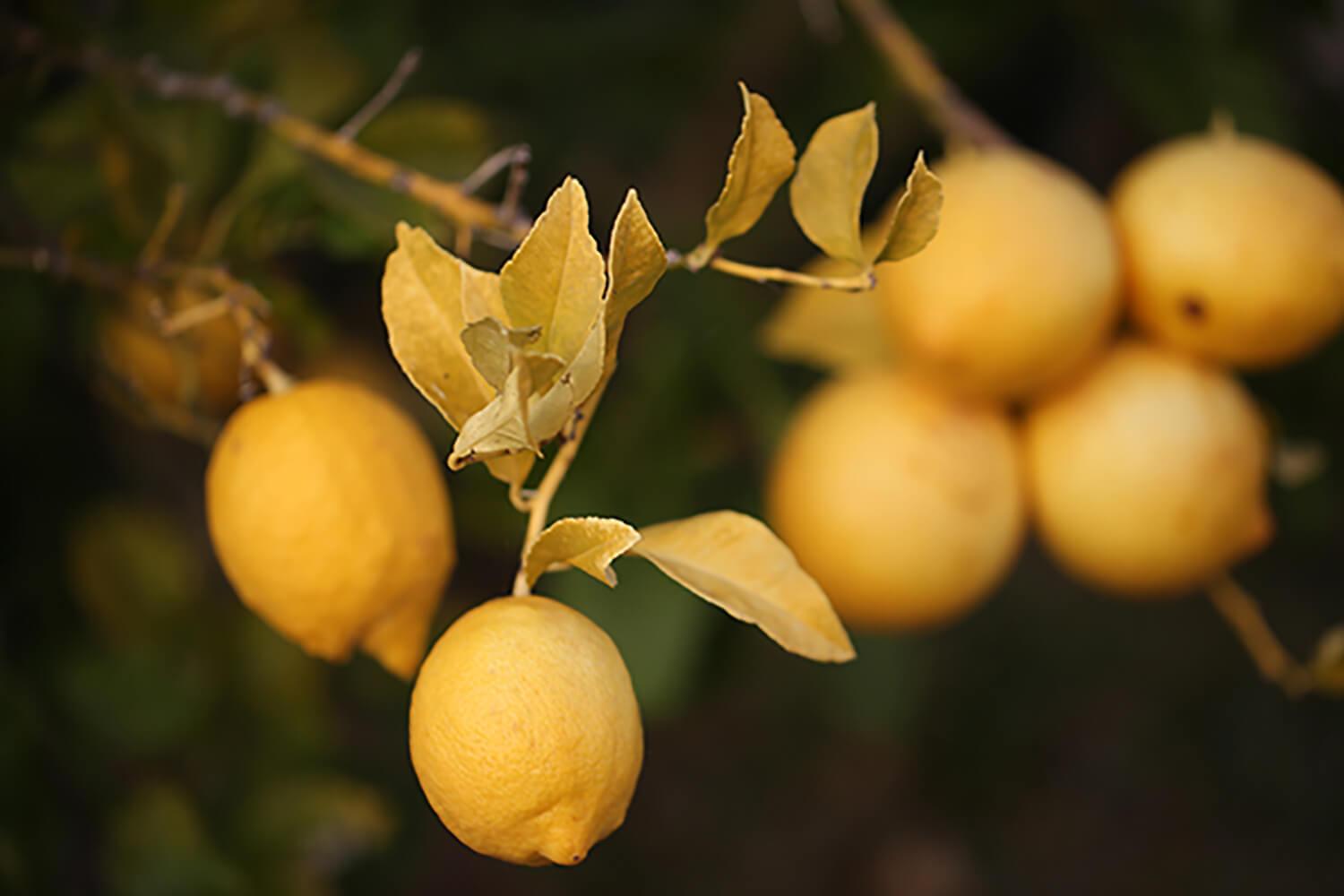 So, recently, as I sat on the floor in my mother's living room and opened one of my grandfather's books to a random spot, I was surprised to find an important anecdote from medical history that I often use in my lectures when I speak about the holistic perspective on health. Since it fits so well into this time, I want to tell it to you:
In the 19th century there was a fundamental dispute in medical science. The question was how disease develops. One view, put forward by the scientist Louis Pasteur, was that disease is caused by a pathogen (bacteria, virus, etc.). The other view, represented by the scientist Claude Bernard, assumed that the physical environment was decisive in determining whether a person fell ill or not. His statement was: "The microbe is nothing, the environment is everything." Louis Pasteur's pathogen theory prevailed at the time and still forms the basis of conventional medicine today. In old age, however, Pasteur is said to have changed his mind and said on his deathbed: "Bernard was right."
Put it down to the way I was raised, but I do as well fervently believe that our internal milieu is everything. That is why it is so important, especially in times like these, to pay attention to our diet, to take care of our intestinal environment and to keep an eye on our acid-base balance. All of these things can also be really fun when paired with delicious food…
My carrot and lentil soup
Carrot and lentil soup is a great everyday meal that, once prepared, can add up to multiple hot meals in a work week. It's a great feeling for me to know that I have a pot of this soup in the fridge and only need to heat it up quickly at lunchtime and enjoy it pure, with a slice of bread or a small portion of rice. Since the soup contains a lot of roughage, it cares for the intestinal environment, is great for the immune system because it warms the body and kidneys and ensures good energy distribution. Since it contains a lot of vegetable protein, it is also a balanced meal that perfectly nourishes the body and keeps you satisfied for a long time.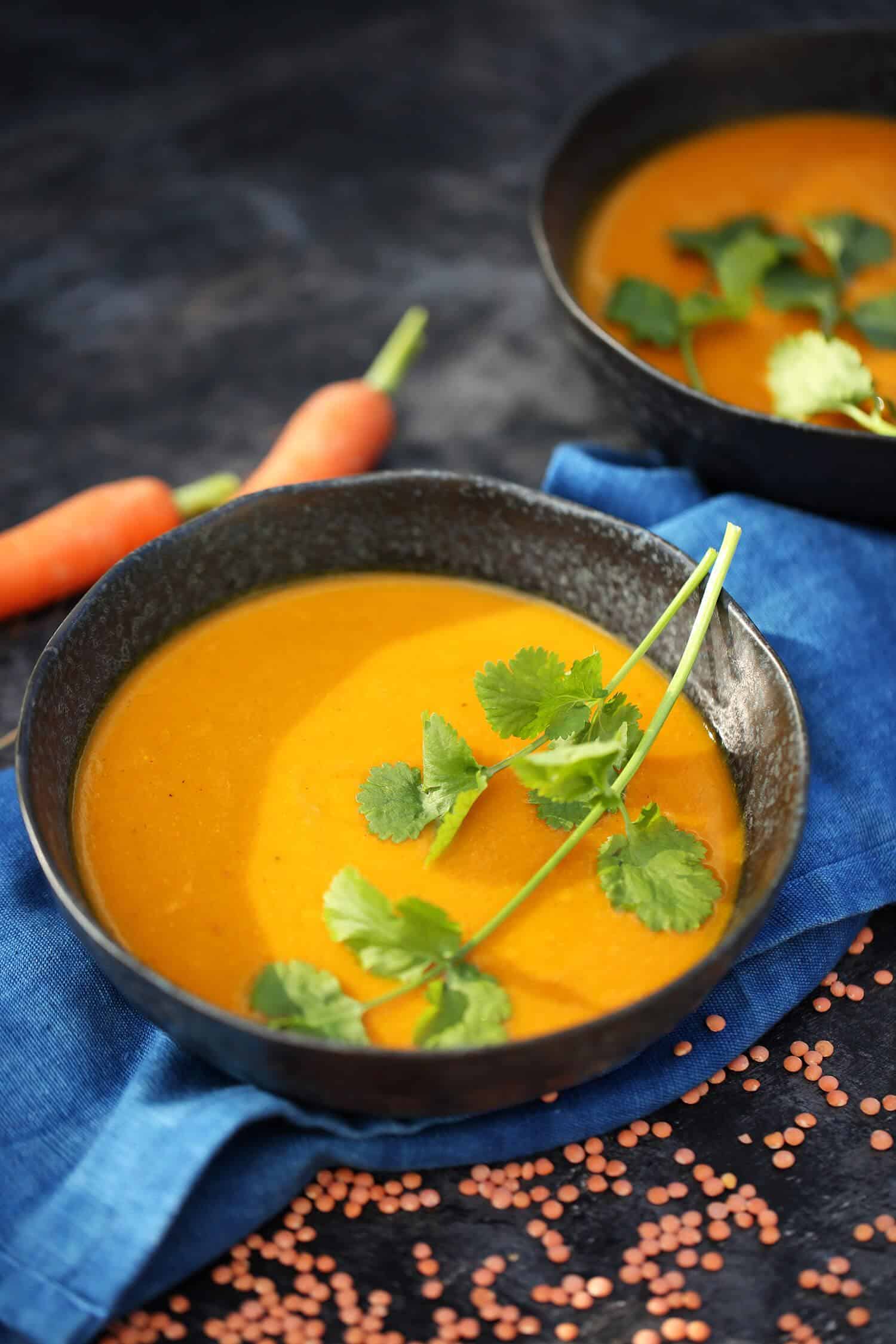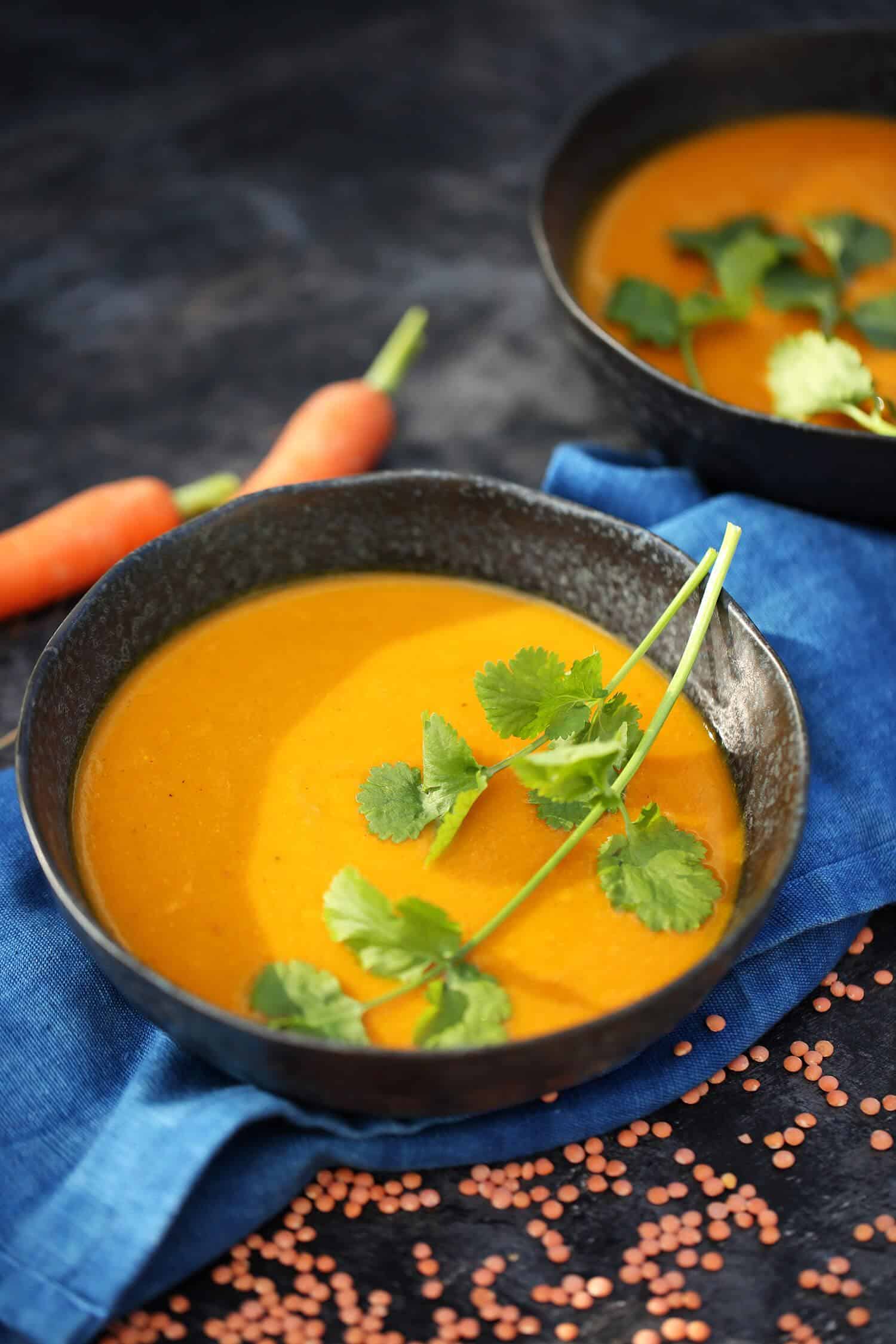 CARROT LENTIL SOUP
Instructions
Heat olive oil in a large saucepan and sauté onion, garlic, ginger and spices.

Add the carrots and sauté briefly while stirring. Deglaze with hot water.

Place the red lentils in a sieve, rinse with water and add to the saucepan.

Add salt and tomato paste and simmer for about 20 minutes with the lid closed.

Puree in a blender (or with a hand blender) until creamy. Pour back into the pot and add the grated lemon peel and season with freshly squeezed lemon juice and salt and pepper if necessary. Garnish with an optional freshly chopped coriander and serve.