No, I wasn't always a beetroot fan. For years, beetroots were on my list of foods that shouldn't be on my plate, and if so, only in microscopic amounts. Well, it does exist after all: love at second sight. Because today beetroots and I are the thickest friends. I mean: just look at their color! It's clear that they are beautiful and really special. Because when it comes to food, a lot of color means a lot of vital nutrients. And the beetroot has a deep red color that comes from betanin. Betanin is a powerful antioxidant – it protects our body cells from damage. And so it strengthens the immune system and relieves the liver. In a study by Kyung Hee University in South Korea, scientists found out that beetroot has a positive effect on athletes' performance because it naturally lowers blood pressure, increases blood flow and ensures that the heart needs less oxygen during exercise. The beetroot owes this effect to the nitrates it contains from the earth. Their circulation-promoting effect naturally ensures that our brain is better supplied with blood and that we become more efficient on the mental level.
So much for the facts. Now for the taste: beetroot has that earthy taste that some people don't like. If you roast it in the oven, it becomes sweet and mild and so damn tasty. Above all, you hardly have any work with it. You roast the beets whole in a preheated oven, then use rubber gloves to remove the peel and finely dice them. Mixed with dressing, capers and spring onions, you get a very fine starter that looks like a beef tartar, but in my opinion is much tastier. With a homemade mayonnaise made from cashew nuts (don't worry, it's very easy to make), you will serve a dish with a real wow factor.
And now my question for you: are you a beetroot-lover or not yet? I'm looking forward to your comment below!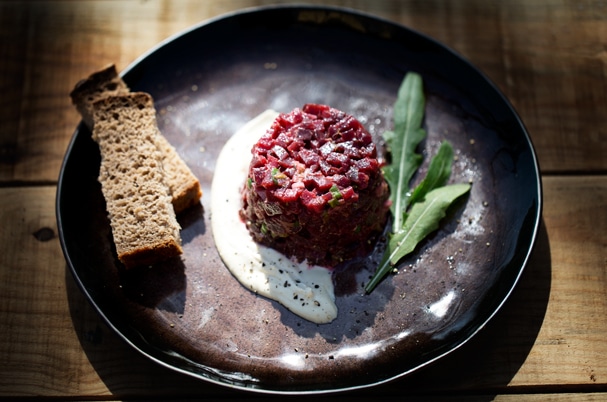 BEETROOT TARTAR WITH CASHEW MAYONNAISE
Instructions
Preheat the oven to 180°C.

Pour boiling water over the cashew nuts for the cashew mayonnaise in a small bowl and soak for at least 30 minutes (or preferably while the beetroot is baking).

Bake the (raw) beetroot whole including the skin on a baking sheet lined with baking paper on the middle rack for about 45–50 minutes. The baking time varies depending on the size of the beets. Check its firmness by poking the beetroot with a fork. If you use pre-cooked beetroot, this step is not necessary.

Pour the soaked cashew nuts into a sieve and rinse briefly. Puree together with the other mayonnaise ingredients in the food processor to a fine cream. If the food processor is not strong enough and the cream is grainy as a result, pass the cream through a fine sieve.

Take the beets out of the oven and let cool down briefly. Then (preferably with rubber gloves) remove the peel and finely dice the beetroot. If you use pre-cooked beetroot, just dice them finely.

Roast the spring onions in 1 tablespoon of olive oil in a pan for 2 minutes. Mix into the beetroot together with the chopped capers. Mix the remaining olive oil, apple cider vinegar, maple syrup, mustard, table horseradish, salt and freshly ground black pepper in a cup and spread under the beetroot.

Now to the serving: the beetroot tartar looks particularly beautiful when you fill it into a serving ring, press it down firmly with a spoon and then remove the ring again. Alternatively, the tartar can be pressed in a small glass or bowl, and then flipped onto the plate. Of course, the tartar tastes just as good when served with a spoon on a few rocket leaves. Serve with the cashew mayonnaise.
Wellcuisine-Tipp
Goes well with
a slice of rye sourdough bread or (for a hearty meal) a fried egg.