Hello life,
Sometimes you are so sweet, then bitter again, violent, heartbreaking, passionate, raw or tender. I love you, but it's not always easy with you. Maybe it's my fault (I'm pretty sure it is) that sometimes you are hard to take. And then again you surprise me with your lightness and nonchalance, as if nothing had happened. Then there are those moments when you're so quiet after the storm and take me into your arms, so that all worries disappear. I like that you have so many facets. I never get bored of you. I've got used to the fact that a difficult phase with you is usually followed by a particularly beautiful one. That the morning after the rain looks particularly clear and bright. Your contrasts make you so colorful. You open me up again and again.
I recently spoke to a friend about the fact that some of us choose (unconsciously) to close ourselves off from you as we get older. I choose the opposite way and try to open myself more and more to you. Even if it feels raw at times. But it makes moments possible when I sit hand in hand with a dear friend and cry over a loss and at the same time feel this great closeness, connection and love that unites us.
Life, you are not for cowards. We need to have courage and determination to live you well. This is how you make us stronger. You have so many flavors, but at the moment you are bitter-sweet for me. You remind me of good chocolate, which combines tartness with sweetness and hardness with melting. That's why I'm putting a tiny, creamy and sweet memorial for you: I'll make a chocolate mousse for you. A decadent one that tastes like nougat. From the best ingredients, because only good ingredients lead to good results. Something else I've learned from you, life. Thanks for that.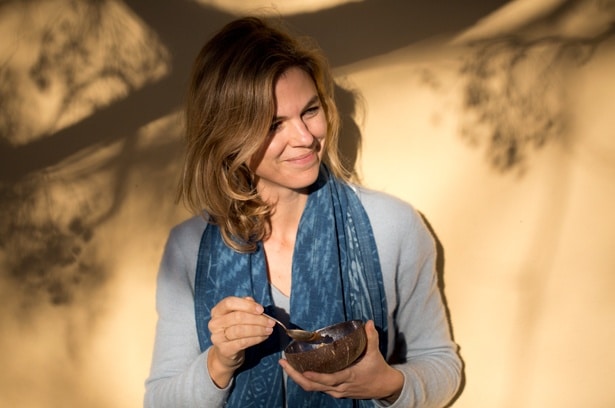 AVOCADO MOUSSE AU CHOCOLAT WITH ROASTED HAZELNUTS
Ingredients
For the chocolate mousse:
Equipment
food processor or hand blender
Instructions
Peel and core the avocados and cut into large pieces. Puree together with all the other mousse au chocolat ingredients in the food processor or with the hand blender until creamy.

Roast the hazelnuts in a pan until they start to smell. Place in a clean kitchen towel and rub off the peel. Roughly chop the nuts on a cutting board.

For the chocolate sauce, melt the coconut oil in a small saucepan over low heat. Mix with maple syrup and cocoa powder (Caution: do not put the sauce in a cool place, as the coconut oil will make it firm again).

Pour the chocolate mousse into dessert bowls, drizzle with the chocolate sauce, and serve sprinkled with chopped hazelnuts.