"For me, kindness is the most important quality in a person. It comes before things like courage, bravery, and generosity. Kindness – that simple word. Being kind – that covers everything for me. Just be kind – that's it. " Roald Dahl
Kindness. What an underrated quality. Kindness. Isn't it old-fashioned to be kind? Who wants to be called "nice"? Isn't nice terribly boring? For me, being nice is exciting. Kindness shows inner strength. Because it means that we face life as friends rather than enemies. This is not always easy, because things happen that we don't like, that we want to close ourselves off from or that we want to fight. Those who are friendly know that they can only find satisfaction in themselves and that they don't have to change or fight anything out there. Kindness means being open to solutions. Always looking for and finding what is good. Not to harden, but to stay flexible inside. To be kind means not to take life too seriously. To make the difficult easier, for ourselves and for others. Kindness is getting past other people's weaknesses and not using them as a hook to hang our anger on. Kindness. So much underrated and at the same time so beneficial. If you asked me about a single health tip, I would answer you: kindness. What can be healthier than being kind to yourself and your body? When I'm kind to myself, I give my body what it needs. I take care of him because he is my friend. I don't abuse him, I don't hate him, I don't feel alien to him, I don't criticize him. This is how I treat my food. I choose what is right for me. I am relaxed because I know what is good for me and what is not. Then food is never the enemy, but a friend who gives us exactly what we need at the right moment. No more and no less.
In the morning I like my food to be quick, uncomplicated and tasty – for me that is a "friendly breakfast". In autumn-winter it is a granola for me, which I prefer to eat with warm apples and pears. At Christmas time it can taste like gingerbread for me, why not? The best fragrance in the world wafts through the house as soon as the granola is baked. And later the granola waits patiently in a beautiful jar to be eaten with the warm fruit and a little ginger. Some days I turn this friendly breakfast into a nice afternoon snack, because the warm fruit with Christmas granola tastes as good as the best apple pie. Just assume (purely hypothetical) you would whip a little cream to serve with, that would be very, VERY kind. In the most exciting sense. Incidentally, with this granola you can also show that you are a real friend and give it away during Advent or Christmas. Simply choose a nice mason jar, fill in the granola and decorate with a ribbon and a pine branch. Ready.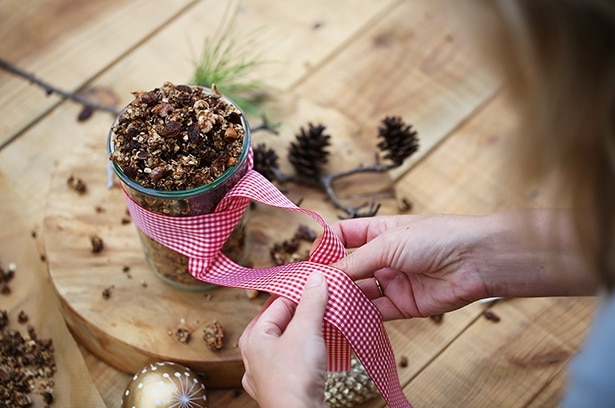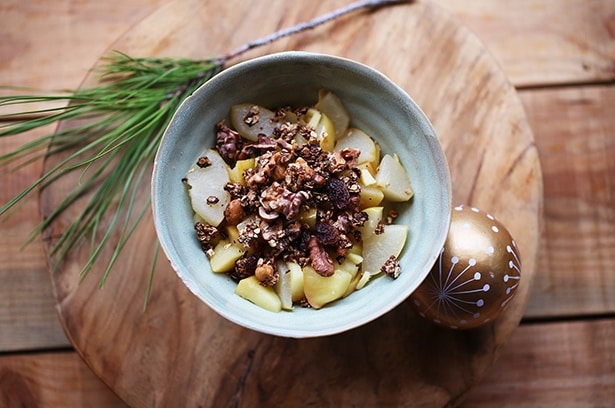 GINGERBREAD GRANOLA
Instructions
Preheat the oven to 180°C top and bottom heat.

In a large bowl, mix together the oatmeal, walnuts, hazelnuts and salt.

Melt the coconut oil in a small saucepan over low heat and mix in the almond butter, maple syrup, orange oil, gingerbread spice and cinnamon until smooth. Add to the dry ingredients and mix well first with a spoon, then with your hands.

Place the mixture on a parchment-lined baking sheet and distribute it evenly. Bake for about 15–20 minutes, until the granola is golden brown. Check for the last 5 minutes that the granola does not burn. Take out and let cool.

Only when the granola has cooled down, mix in the raisins. The granola will keep for at least 6 weeks in an airtight container.
Wellcuisine-Tipp
In winter I like to eat my granola with warm apple-ginger-pears. For each portion you core and dice 1 small apple and 1 small pear with the peel. In a small saucepan, heat 1/2 tbsp coconut oil, add 1/2 tbsp chopped ginger and the pear and apple pieces. Sauté briefly, then deglaze with approx. 100 ml water and simmer gently for approx. 5–8 minutes, until the fruits are soft. Pour into a bowl and serve sprinkled with granola.